1. Install Aptoide Client in your device
(if it is not yet installed)
To install Applications from Aptoide you need to install Aptoide Client.
1.1 You can use one of the following ways:
- Download aptoide.apk and install it in your phone:
- Or scan this QR code with your Android device: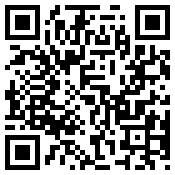 1.2 After the download is complete, go to the notification bar and press de application name (Aptoide.apk) to start installing Aptoide.
1.3 Click in "Install" button to finish Aptoide installation.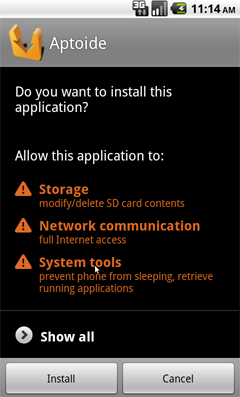 2. Browse through the applications and choose one to install
2.1 Access this application in Aptoide Mobile, by clicking here or scanning the QR Code below.
Adobe Reader
QR Code


Click the Install button!
This application does not need permissions.
Description:
Adobe Reader permet de haute qualité, rapide visualisation de fichiers PDF et de l'interaction de votre smartphones Android et comprimés. Sélectionnez Adobe Reader que l'application de choix lors de l'ouverture d'un fichier PDF et vous serez capable de voir et naviguer dans le PDF rapidement et intuitivement.

Principales caractéristiques du logiciel Adobe Reader sont:

Affichage d'un PDF
• Haute qualité et rapide visualisation de fichiers PDF sur un petit écran vous permet de visualiser les fichiers PDF car ils sont
• Afficher le porte-documents PDF et mot de passe des fichiers PDF protégés

Expérience améliorée pour les petits écrans
• Le mode de redistribution du texte pour ajuster le contenu du document pour adapter la taille d'écran
• Choix des modes de visualisation (Single Page ou défilement continu) pour une consultation aisée selon le type de document et la taille de l'écran

Navigation
• gestes tactiles pour la navigation efficace et zoom dans le PDF
• Fonction de recherche Texte à chercher et accéder à un texte spécifique dans le fichier PDF
• Interface de navigation Page pour une navigation rapide dans les fichiers de grande taille
• Les points chauds dans les parties gauche et droite de l'écran pour aller à la page précédente ou suivante

Organiser, partager et gérer
• intégré dans le gestionnaire de fichier permet d'accéder rapidement à tous les fichiers PDF sur le dispositif organisé par l'emplacement ainsi que les fichiers récemment consultés
• fonction de partage permet d'envoyer des fichiers PDF via d'autres applications, y compris l'envoi en pièce jointe avec une seule touche
• Adobe Reader application peut être déplacé vers la carte SD - cette fonction est prise en charge sur les appareils avec v Android 2.2 et supérieurs

Langues disponibles
• anglais, chinois simplifié, chinois traditionnel, français, allemand, italien, japonais, coréen, espagnol, néerlandais, danois, portugais, suédois, russe, tchèque, polonais et turcs

Adobe Reader est un must have pour votre appareil Android, la fourniture rapide et la consommation élevée la qualité des documents PDF.

NOUVEAU! -Access Adobe CreatePDF sur Android Market à partir du menu dans Adobe Reader. Adobe CreatePDF vous permet de créer de haute qualité des fichiers PDF sur votre appareil Android à partir de documents Microsoft Office, images, etc et les partager facilement avec d'autres.

Dans cette mise à jour, des autorisations pour accéder aux pièces jointes par courrier électronique à partir du client de messagerie par défaut ou Gmail sont supprimés. Ces autorisations ont été ajoutés dans la version précédente comme une solution de contournement en raison d'un changement apparent de 2,3 v Android qui empêche Adobe Reader de manière transparente ouvrir les pièces jointes PDF à moins que les applications ont ces autorisations. Adobe prend très au sérieux la vie privée, et ces demandes d'autorisation ont été retirés pour répondre aux préoccupations de confidentialité potentiels. En raison des exigences des autorisations d'accès sont retirés, certains utilisateurs sur les appareils avec Android v2.3 et plus peuvent rencontrer des problèmes de facilité d'utilisation dans certains cas, tels que d'avoir à sélectionner les pièces jointes PDF à deux reprises afin d'ouvrir dans Adobe Reader. Adobe travaille activement avec Google pour enquêter sur cette question.
197

users LIKE this Android application
23

users DON'T LIKE this Android application
Adobe Reader
220
Warning:
To access you need to login. Please fill in the fields
here
.
abc_cba81
07:25:05 02/05/13

برنامج ممتاز
pyaeaye84
08:01:23 03/04/13

like
pyaeaye84
08:01:02 03/04/13

like
nyigdvhh
23:25:34 27/01/13

www.encontrosprivados.com

un peu lourde mais fais son taf
mohamoon
17:35:32 30/11/12

test
m.sarparast
21:31:50 23/11/12

تلویزیونهای باز رایگان
zarinbijan
00:12:54 03/11/12

pes2012

Es una vil porqueríaaa.... se traba todo, demasiado complicado de manejar, se queda colgado, forza a cerrar la app. No pierdan su tiempo...... Basuraaaa...