1. Install Aptoide Client in your device
(if it is not yet installed)
To install Applications from Aptoide you need to install Aptoide Client.
1.1 You can use one of the following ways:
- Download aptoide.apk and install it in your phone:
- Or scan this QR code with your Android device: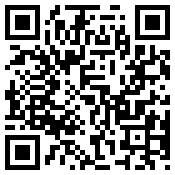 1.2 After the download is complete, go to the notification bar and press de application name (Aptoide.apk) to start installing Aptoide.
1.3 Click in "Install" button to finish Aptoide installation.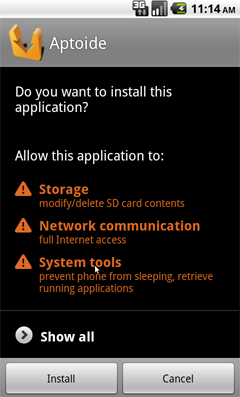 2. Browse through the applications and choose one to install
2.1 Access this application in Aptoide Mobile, by clicking here or scanning the QR Code below.
Adobe Reader
QR Code


Click the Install button!
Description:
The global standard for reliably viewing and sharing PDF documents

Adobe Reader is the free global standard for reliably viewing and sharing PDF documents across platforms and devices. Easily and efficiently access the widest range of PDF file types—including PDF Portfolios, password-protected PDF documents and Adobe LiveCycle rights-managed PDF files. Adobe Reader offers fast, high-quality interaction with PDF files on your Android smartphones and tablets.


View PDF files

• Quickly open PDF files from email , the Web or files stored on your device

• View PDF Portfolios, PDF Packages, annotations and drawing markups

• Read text annotations such as Sticky Notes



Access encrypted PDF files

• Open and view password-protected PDF files

• Access files secured by Adobe LiveCycle Rights Management, which helps protect sensitive documents

• Supports the highest grade of PDF encryption, up to AES256



Interact with PDF files

• Search text to find specific information

• Use bookmarks to jump directly to a section in your PDF file

• Select single page or continuous scroll modes

• Easily zoom in on text or images for a closer view

• Quickly navigate through large files using thumbnails

• Select and copy text from a PDF file to the clipboard



Share files

• Share PDF files with other applications including sending PDF documents as email attachments



Available languages

English, Chinese Simplified, Chinese Traditional, French, German, Italian, Japanese, Korean, Spanish, Dutch, Danish, Portuguese, Swedish, Russian, Czech, Polish and Turkish



Price

Adobe Reader for Android is a free app


By clicking "Install" I agree to the License Agreement terms athttp://www.adobe.com/products/eulas/ -
197

users LIKE this Android application
23

users DON'T LIKE this Android application
Adobe Reader
220
Warning:
To access you need to login. Please fill in the fields
here
.
abc_cba81
07:25:05 02/05/13

برنامج ممتاز
pyaeaye84
08:01:23 03/04/13

like
pyaeaye84
08:01:02 03/04/13

like
nyigdvhh
23:25:34 27/01/13

www.encontrosprivados.com

un peu lourde mais fais son taf
mohamoon
17:35:32 30/11/12

test
m.sarparast
21:31:50 23/11/12

تلویزیونهای باز رایگان
zarinbijan
00:12:54 03/11/12

pes2012

Es una vil porqueríaaa.... se traba todo, demasiado complicado de manejar, se queda colgado, forza a cerrar la app. No pierdan su tiempo...... Basuraaaa...