1. Install Aptoide Client in your device
(if it is not yet installed)
To install Applications from Aptoide you need to install Aptoide Client.
1.1 You can use one of the following ways:
- Download aptoide.apk and install it in your phone:
- Or scan this QR code with your Android device: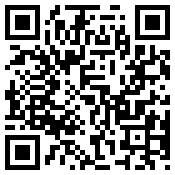 1.2 After the download is complete, go to the notification bar and press de application name (Aptoide.apk) to start installing Aptoide.
1.3 Click in "Install" button to finish Aptoide installation.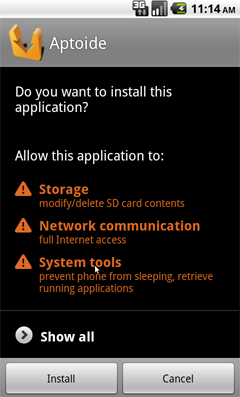 2. Browse through the applications and choose one to install
2.1 Access this application in Aptoide Mobile, by clicking here or scanning the QR Code below.
AntTek File Explorer
QR Code


Click the Install button!
Specifications:
Min SDK:
6
Min Screen:
Small
Supported CPU:
armeabi
Permissions:
android.permission.WAKE_LOCK
Allows using PowerManager WakeLocks to keep processor from sleeping or screen from dimming.
android.permission.WRITE_EXTERNAL_STORAGE
Allows an application to write to external storage.
android.permission.WRITE_MEDIA_STORAGE
android.permission.SET_WALLPAPER
Allows applications to set the wallpaper.
android.permission.INTERNET
Allows applications to open network sockets.
com.android.launcher.permission.INSTALL_SHORTCUT
Description:
This is the first multi-panel file explorer on Android OS. It features "Drag & drop anywhere" to bring the best user experience. You feel it like on your Macbook's Finder. You feel it like Window's Explorer. You feel it like Nautilus on Linux. No, even better! Layout is configurable and adaptable to screen size (phone & tablet).

**** UPGRADE USERS: we try to reduce the main app size by divide into plugins. Please download corresponding plugins (SMB, FTP, etc) in order to make the app work***




Drag and Drop anywhere

☆ Drag and drop anywhere

☆ Seamlessly copy/move files from different panels or from local to server


Flexible layout customization

☆ 6 different panels to select: Overview, temporary box, etc.,

☆ Contextual toolbar to easily drag and drop

☆ Optimize panels for both phone and tablet

☆ Collapsible panels


File browser

☆ Manage local file (SDCard)

☆ Manage remote file server: Samba/CIFS/Window shared/FTP/FTPs

☆ Manage system partition (if rooted)

☆ Streaming from remote file server for audio and video


Build-in viewers

☆ Pictures viewer

☆ TIFF viewer (free plugin required)

☆ PDF viewer (free plugin required)

☆ Zip/Rar viewer

☆ APK viewer

☆ Source code viewer: support more than 13 programming languages (java, C, php, perl, etc.,)


Root Access

☆ Browse private partitions (i.e. /data, /system) as regular files on SDCard

☆ Delete system/stock/bloatware apps

☆ View system files


4 themes

☆ Dark/Light

☆ Pinky, Android


Quick search

☆ Quick search all sd card




More details:

- Browse, copy, cut, paste, delete, rename, send, zip, unzip over Linux-file entry,

- Build-in viewer for text, image, video files and text editor, zip viewer, apk viewer

- Configurable dual panels view for large screen

- Quick browsing with bookmarks and shortcuts,

- Smart toolbar that commits the best user experiences,

- Internal viewers for apk, zip, image, text files.

- Look and feel with different view modes, sort modes, beautiful icon set, multiple selection operation,

- Two mode: regular (fast) & native (better for Root users)


Support:anttek@googlegroups.comkw: file manager explorer browser viewer app manager task man, Root Explorer, io explorer, xoom, galaxy tab, tablet, Icream Sandwich -
11

users LIKE this Android application
2

users DON'T LIKE this Android application
AntTek File Explorer
13