1. Install Aptoide Client in your device
(if it is not yet installed)
To install Applications from Aptoide you need to install Aptoide Client.
1.1 You can use one of the following ways:
- Download aptoide.apk and install it in your phone:
- Or scan this QR code with your Android device: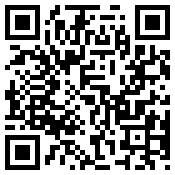 1.2 After the download is complete, go to the notification bar and press de application name (Aptoide.apk) to start installing Aptoide.
1.3 Click in "Install" button to finish Aptoide installation.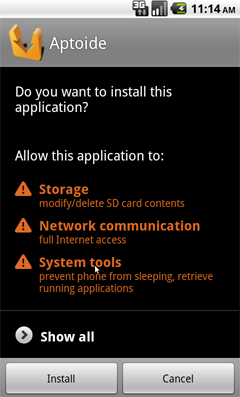 2. Browse through the applications and choose one to install
2.1 Access this application in Aptoide Mobile, by clicking here or scanning the QR Code below.
Ant Smasher, Best Free Game
QR Code


Click the Install button!
android.permission.VIBRATE


Allows access to the vibrator.


android.permission.INTERNET


Allows applications to open network sockets.


android.permission.ACCESS_NETWORK_STATE


Allows applications to access information about networks


android.permission.READ_PHONE_STATE


Allows read only access to phone state.


android.permission.GET_TASKS


Allows an application to get information about the currently or recently running tasks: a thumbnail representation of the tasks, what activities are running in it, etc.


android.permission.GET_ACCOUNTS


Allows access to the list of accounts in the Accounts Service .


com.android.vending.BILLING
android.permission.KILL_BACKGROUND_PROCESSES


Allows an application to call killBackgroundProcesses(String).


android.permission.WRITE_EXTERNAL_STORAGE


Allows an application to write to external storage.


android.permission.ACCESS_WIFI_STATE


Allows applications to access information about Wi-Fi networks.


Description:
The best free game out there! Ant Smasher - smash all the ants you can!

*** TOP 10 GAME *** 35 MILLION DOWNLOADS ***


Smash ants with your finger in this great game!


Ant Smasher is more social now - you can smash your friends' pictures!!!


Highly entertaining for kids, boys and girls. Special virtual goods that make the game easier for young players can be acquired! It's so addicting!


Features:


+ Several Ants to Smash

+ One of the best new FREE Games ever!

+ Dangerous Bee - Don't Touch the Bee!

+ Global high-score rankings

+ Different Addictive Game Modes

+ Best Game for all ages, man and woman!

+ A funny app to pass the time.


All... for FREE!


Ant Smasher is brought to you by:


Best, Cool & Fun Games - Free Game App Creation Desenvolvimento de Aplicativos S.A., 2012


We will keep bringing you the top best games and popular apps! Stay tuned for our other games and visit us at www.bestcoolfungames.com


Simply touch the ants and relax! Simple, exciting, a must-play arcade game. Multiplayer support is coming soon.


Be the best crusher out there! Smash these ants, bugs and bees! Race faster than the ants and shoot all those pesky animals! Ant racing is on!


DISCLAIMER: this app contains no references to sex, pornography, naked women, naked men, prostitutes, porn, love, violence, drugs, alcohol, kamasutra, adult images or videos, guns, fight, gambling, poker, casino and hate. There are no penis, boobs, vagina, ass/butt photos. Please do not ask us to in any way display the above content, because we won't.


Use your fingers in this real-looking HD-3D-graphic ants game. We usually produce the best games ever, so be ready for a lot of excitement and addiction.


For all the Smashers and Crushers: squish, crush and smash all the ants!!! Men, women, a kid, a boy, a girl, grandpas and grandmas are all welcome to play. Bug smasher.


Download Ant Smasher while it's FREE! - -
95

users LIKE this Android application
18

users DON'T LIKE this Android application
Ant Smasher, Best Free Game
113
Users comments about Ant Smasher, Best Free Game
Comment +
Warning:
To access you need to login. Please fill in the fields
here
.
thairiany
03:18:05 25/04/13

ya descargue el juego luego comento.
futbol195
15:54:28 19/03/13

nose por la aplicasion tsf no me funsiona en mobile
ghelixbeth
10:51:50 19/03/13

fino
flavioedebora5
05:51:25 19/03/13

gosto
mlopez159
11:18:32 05/03/13

tan porqueria