1. Install Aptoide Client in your device
(if it is not yet installed)
To install Applications from Aptoide you need to install Aptoide Client.
1.1 You can use one of the following ways:
- Download aptoide.apk and install it in your phone:
- Or scan this QR code with your Android device: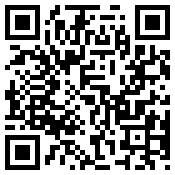 1.2 After the download is complete, go to the notification bar and press de application name (Aptoide.apk) to start installing Aptoide.
1.3 Click in "Install" button to finish Aptoide installation.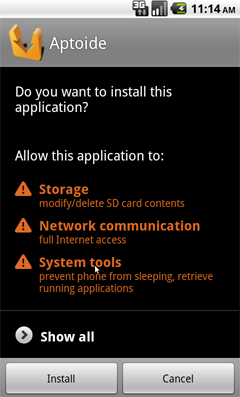 2. Browse through the applications and choose one to install
2.1 Access this application in Aptoide Mobile, by clicking here or scanning the QR Code below.
Drag Racing
QR Code


Click the Install button!
android.permission.INTERNET


Allows applications to open network sockets.


android.permission.VIBRATE


Allows access to the vibrator.


android.permission.READ_PHONE_STATE


Allows read only access to phone state.


android.permission.ACCESS_NETWORK_STATE


Allows applications to access information about networks


com.android.vending.BILLING
Description:
The most addictive racing game with realistic controls and 50+ cars!

The most addictive racing game with realistic controls, lots of cars and 40+ million players, updated regularly with new features.


- Drive 50+ cars including the officially licensed 1200 bhp Hennessey Venom GT™

- Buy performance upgrades, tune and customize your car

- Challenge other racers online! Race 1 on 1, drive your opponent's car, or participate in 10-player races in Pro League

- XPERIA PLAY Optimized


***

Named among 10 best Android games of 2011 by NY Times blog!


"With so many cars to choose from, a virtually unlimited pool of opponents, and so many parts to upgrade, we think you'll love it."

- Jaymar Cabebe, CNET.com


"Mega-addictive and with bags of longevity to boot. Drag racing is a well-conceived, well executed racer that'll keep petrolheads coming back for more."

- Michael Brook, Life of Android


"...you'll appreciate that this is a smartphone app that is a cut above the average"

- Amazon.com


***

TIPS:

0. Updating the game

- Your cars and money are saved on your device. DO NOT EVER uninstall the game before updating, or you will lose ALL of your stuff.

1. Racing

- Launch and shift when the dashboard indicator turns blue or green

- If there is too much wheelspin, you are not going anywhere - watch the orange indicator on your dashboard

- Once you learn how to drive properly, ignore the lights and find your own winning strategy

- Nitrous is more effective on underpowered cars with lots of grip. Timing is crucial!


2. Cars and upgrades

- Test drive before you buy a car!

- The more your car costs, the tougher opposition you'll face both offline and online

- Upgrades count towards increasing car cost/level, while tuning doesn't

- Keep your car cost just under your level cap to get an advantage

- Adjusting gear ratios (Garage -> Upgrade -> Tune) is costly, but lets you achieve times that are impossible on stock settings


3. Game modes and winnings

- Race against beginner/amateur AI to get some quick cash and build your car

- Defeat bosses and unlock achievements for extra RP

- Go online and race against others to earn maximum cash/RP

- If your car isn't ready for online races, earn some cash in "Drivers Battle"

- For the ultimate challenge, race against top players in Pro League


4. Misc

- Joinhttp://facebook.com/DragRacingGamefor news and strategy

- Visit the official forums:http://www.dragracingforum.net- Try playing with vibration on (enable it in the "Settings" menu)!

- If the game runs slow on your phone, use the task manager to kill unnecessary background tasks, or reboot the device


***

COMING SOON:

- Drag Racing: Bike Edition with updated graphics and gameplay (and obviously bikes!) - Jan/Feb -
Warning:
To access you need to login. Please fill in the fields
here
.
goki741252
17:26:54 11/05/13

RP
stivn.kistouph
10:42:40 06/05/13

ممتازة جدا جدا جدا
jamiafields
03:24:46 28/04/13

what type a name is Greta blob
jamiafields
03:23:58 28/04/13

it's so awesome
gabri.pacioni
20:59:15 25/03/13

I love drag racing but.....pig god
ahmadaljaone
07:53:29 23/03/13

its ger be harder when you get le2

but its good game
gredawoogataga
17:54:13 03/03/13

il et bien
ant.placidi
11:15:42 28/02/13

ma si paga????
kom_za_1
11:20:16 30/01/13

????