1. Install Aptoide Client in your device
(if it is not yet installed)
To install Applications from Aptoide you need to install Aptoide Client.
1.1 You can use one of the following ways:
- Download aptoide.apk and install it in your phone:
- Or scan this QR code with your Android device: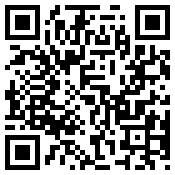 1.2 After the download is complete, go to the notification bar and press de application name (Aptoide.apk) to start installing Aptoide.
1.3 Click in "Install" button to finish Aptoide installation.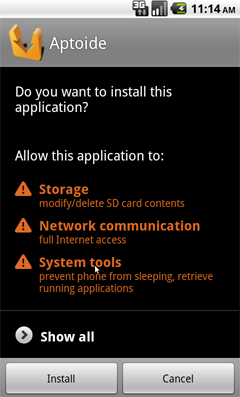 2. Browse through the applications and choose one to install
2.1 Access this application in Aptoide Mobile, by clicking here or scanning the QR Code below.
mydlink Lite
QR Code


Click the Install button!
Specifications:
Min SDK:
4
Min Screen:
Small
Supported CPU:
armeabi
Permissions:
android.permission.RECORD_AUDIO
Allows an application to record audio.
android.permission.INTERNET
Allows applications to open network sockets.
android.permission.ACCESS_NETWORK_STATE
Allows applications to access information about networks
android.permission.WRITE_EXTERNAL_STORAGE
Allows an application to write to external storage.
android.permission.ACCESS_WIFI_STATE
Allows applications to access information about Wi-Fi networks.
Description:
Quickly and easily view your live Cloud Camera feeds and manage your Cloud Routers from anywhere using a Wi-Fi or 3G/4G connection. Whether you're at the office, having an evening out, or away on vacation, the mydlink Lite app gives you access to your Cloud Cameras, Cloud Routers and NVR even when you're on-the-go.

You can also check your Cloud Router's current upload/download bandwidth, or manage your wireless network security and status. Parental controls let you see what sites your children have visited when you were away, and you can even block or unblock network access for individual devices.


For more information, go to mydlink.com or dlink.com


Features of the mydlink Lite:

- View live video from your Cloud Camera, including a full-screen view. Tablet users may purchase the mydlink+ app for multiple camera viewing.

- Supports H.264 video streaming for smooth high-quality video (specific models only.)

- Listen to audio from your camera's microphone (audio-enabled models only)

- Save snapshots of your camera's video to your Phone

- View the online status of your Cloud Cameras and Cloud Routers

- Remotely monitor and configure your Cloud Routers

- Access and view your camera's video feed (without audio) through your NVR.

- Support remote viewing period of five minutes in relay mode. Helpful 60 second left countdown timer.


This app is compatible with the following models:

- Cloud Cameras: DCS-930L, DCS-932L, DCS-942L, DCS-1130L, DCS-2132L, DCS-2310L, DCS-5211L, DCS-5222L, DCS-5230L, DCS-6010L, DCS-7010L

- Cloud Routers: DIR-600L/LW, DIR-605L/LW, DIR-619L, DIR-636L, DIR-826L, DIR-900L, DIR-905L

- NVR: DNR-322L


Note:

* For Cloud Storage support, please download the mydlink Access-NAS app.

* mydlink Lite officially supports Android 4.0 or above.

* The mydlink Lite app is dynamically linked to the FFmpeg shared video decoding library, which is compiled to contain LGPL decoders and splitters only. The repository can be cloned from git://github.com/dlinker/mydlink-Lite---Android.git using the git clone command.

*For tablet users, we recommend downloading the mydlink+ app.

* mydlink Lite is not guaranteed to support Android devices using "dirty" linux kernel (e.g. LG P990).