1. Install Aptoide Client in your device
(if it is not yet installed)
To install Applications from Aptoide you need to install Aptoide Client.
1.1 You can use one of the following ways:
- Download aptoide.apk and install it in your phone:
- Or scan this QR code with your Android device: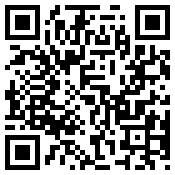 1.2 After the download is complete, go to the notification bar and press de application name (Aptoide.apk) to start installing Aptoide.
1.3 Click in "Install" button to finish Aptoide installation.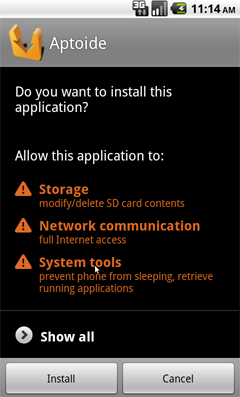 2. Browse through the applications and choose one to install
2.1 Access this application in Aptoide Mobile, by clicking here or scanning the QR Code below.
The Sims™ FreePlay
QR Code


Click the Install button!
android.permission.INTERNET


Allows applications to open network sockets.


android.permission.ACCESS_WIFI_STATE


Allows applications to access information about Wi-Fi networks.


android.permission.WRITE_EXTERNAL_STORAGE


Allows an application to write to external storage.


android.permission.ACCESS_NETWORK_STATE


Allows applications to access information about networks


android.permission.CHANGE_NETWORK_STATE


Allows applications to change network connectivity state.


android.permission.READ_PHONE_STATE


Allows read only access to phone state.


android.permission.WAKE_LOCK


Allows using PowerManager WakeLocks to keep processor from sleeping or screen from dimming.


android.permission.ACCESS_COARSE_LOCATION


Allows an application to access coarse (e.g., Cell-ID, WiFi) location.


android.permission.ACCESS_FINE_LOCATION


Allows an application to access fine (e.g., GPS) location.


android.permission.MODIFY_AUDIO_SETTINGS


Allows an application to modify global audio settings.


android.permission.VIBRATE


Allows access to the vibrator.


com.android.vending.BILLING
android.permission.RECEIVE_BOOT_COMPLETED


Allows an application to receive the ACTION_BOOT_COMPLETED that is broadcast after the system finishes booting. If you don't request this permission, you will not receive the broadcast at that time. Though holding this permission does not have any security implications, it can have a negative impact on the user experience by increasing the amount of time it takes the system to start and allowing applications to have themselves running without the user being aware of them. As such, you must explicitly declare your use of this facility to make that visible to the user.


com.android.launcher.permission.INSTALL_SHORTCUT
com.android.launcher.permission.UNINSTALL_SHORTCUT
com.ea.games.simsfreeplay_row.permission.C2D_MESSAGE
com.google.android.c2dm.permission.RECEIVE
android.permission.WAKE_LOCK


Allows using PowerManager WakeLocks to keep processor from sleeping or screen from dimming.


Description:
LIVE FREE! PLAY FREE!

From the creators of The Sims™ 3 series of best-selling mobile games, comes a COMPLETE Sims experience that you can play for FREE on Android.


**GAME ALERT** Did you know Tetris® FREE has been downloaded over 10 million times on Google Play? See for yourself why millions of people have made the official Tetris® game a must-have on their devices.http://goo.gl/cXQG7**


** The Sims FreePlay is an immersive, high quality game that requires a 350MB+ download. To speed things up, we recommend connecting to WiFi. We promise – it's worth it! **


LET THE FREEPLAY BEGIN! CREATE UP TO 16 CUSTOMIZED SIMS FROM HEAD TO TOE, AND…

• Design dream homes or get fully-furnished houses for your Sims

• Care for pets, grow gardens, even bake a cake

• Give your Sims careers and earn Simoleons to improve their situations

• Complete goals for Lifestyle Points, then spend them on hip items

• Live with your Sims in real-time (when it's day or night for you, it's the same for your Sims)!


…and most of all, play for FREE!

________________________________________

SPECIAL OFFERS:


**IT'S TODDLER TIME! Start the toddler goal to get a FREE birthday cake for your Sims' babies and watch them become toddlers with their very own needs (they grow up so fast)**

________________________________________


MORE SIM-ULATING POSSIBILITIES

Will your Sims be friends – or enemies? Form relationships with a slap, a high-five (or some Woohoo)! Make your town bustle with pet stores, car dealerships and supermarkets. Expand your city as you get more Sims.


Be free, Sims! Be free! The opportunities are limitless!

________________________________________

NOTES:

- This all-new experience of The Sims is designed for play on Android devices and is not connected to our Facebook game.

- You must have an Internet connection to play, so please make sure your device is connected.

- To make sure your game experience is the best it can be – Please disable 4G before playing and note that we are currently addressing 4G compatibility.

- May not work on rooted devices

________________________________________


Be the first to know! Get inside EA info on great deals, plus the latest game updates, tips & more…

VISIT US: eamobile.com/android

FOLLOW US: twitter.com/eamobile

LIKE US: facebook.com/eamobile

WATCH US: youtube.com/eamobilegames


Check out more exciting games from EA like Monopoly, Plants vz. Zombies, Need For Speed Hot Pursuit, Real Racing 2, and Dead Space!


For more information about the third party targeted ad serving and analytics technology in this app and data they collect, see End User License Agreement:http://tos.ea.com/legalapp/mobileeula/US/en/GM/ -
316

users LIKE this Android application
70

users DON'T LIKE this Android application
The Sims™ FreePlay
386
Users comments about The Sims™ FreePlay
Comment +
Warning:
To access you need to login. Please fill in the fields
here
.

a mi no me funciona me dice error 5002 alguien me puede decir como solucionar ese problema
lucianito13.la
20:28:55 10/05/13

Es exelente lo descarge y me funciono solo q no esta actualizado y si se puede actualizen los amos a alguno :-P

es el mejor juego le doy infinito de estrellas i love it
e.47_pacheco
05:36:16 29/04/13

ㅗㅗ횰ㅇ교ㅗㅗㅗㅗㅊㄹㄹㅇㄹㄴ거ㅐㅓㅑㅔㅐㅡㅠㅍㅍㅊ.
e.47_pacheco
05:34:54 29/04/13

ㅗㅎㅅㄺㅁㅁㄱㅎㅇㄴㅅ셔ㅑㅐㅣㅣㅓㅜㅍㄹㄹㅇㅁㅌㅇㅡㅜㅠㅍㅊㅋㅊ쇄ㅐㅓ..
lucasezequiel145
02:41:43 29/04/13

soy lindo

this a virus ! no install
cherryldvs
22:43:21 22/04/13

A-W-E-S-O-M-E!What does that spell?! AWSOME!
cristinacostaosorio
15:30:50 07/04/13

alguien me podria decir como se pelea con un muñeco de karate,solo puedo competir en el centro de competicion,pero eso no me sirvio.por fa ayudarme
anonimusss
20:25:18 20/03/13

this is a virus
wi_you4
10:19:08 16/03/13

ahhhh....why It hasn't gpt the full version? damn EA games.....it's just created for a limited folk
abraham.albo
02:30:35 06/03/13

ojalas que sea wena la wea jajajajaajjaajajja xd
catsss611
20:10:45 02/03/13

it will never commit
k.rajaifar
08:34:43 14/02/13

سلام گفتم متفاوت باشم
Aldope.93
17:35:41 09/02/13

let me know when it works on and offline
:)
nightninja9
07:53:07 30/12/12

verry great game 5 stars
emilieegoodwin2008
00:58:11 19/11/12

wont work tells me to go to their website and click customer care. still doesn't work this error needs to be fixed asap. tell then need to be deleted so people wont have Another much hassle. this game won't play on any device

honestly it suck no one can play the game cuz the game has to connect yo the sever of the game but since it's crack it doens't work:(
obeyyob
16:03:07 07/10/12

it won't work on htc Desire HD
this or any other sims...
jamyramonae
19:15:09 22/09/12

This is a great game... on a PC. Honestly, it uses too much memory just to download the app. Overall, amazing game.

man its not cool we can't play this game on htc wildfire... all sims don't work on htc wildfire :/ I don't mind this uhh!
conchasandra
05:57:39 08/09/12

hello
tom.lancaster20
19:02:08 29/08/12

is it ok
maxime59560
09:21:40 21/08/12

un jeu vraiment coll et pas dilficile a comprendre
pauloleonemoretto
02:01:35 19/08/12

mt foda jogar esse the sims no galáxy s3

what's your mobile model?

Keeps forcing close. Pls fix.

nao funciona no meu kyros. dont work.
armin.gpost
10:45:10 02/08/12

This game can not play in my mobile. :-(
.......... ..... .
......... ...... .
........ ....... .
....... ........ .
...... ......... .
..... .......... .
.... ........... .
... ............ .
.. ............. .
. .............. .