1. Install Aptoide Client in your device
(if it is not yet installed)
To install Applications from Aptoide you need to install Aptoide Client.
1.1 You can use one of the following ways:
- Download aptoide.apk and install it in your phone:
- Or scan this QR code with your Android device: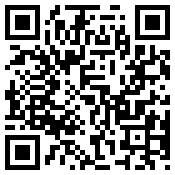 1.2 After the download is complete, go to the notification bar and press de application name (Aptoide.apk) to start installing Aptoide.
1.3 Click in "Install" button to finish Aptoide installation.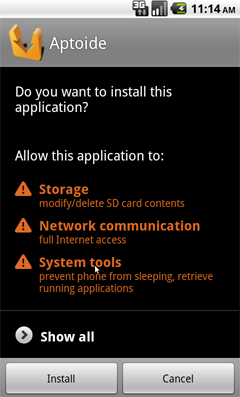 2. Browse through the applications and choose one to install
2.1 Access this application in Aptoide Mobile, by clicking here or scanning the QR Code below.
eBay
QR Code


Click the Install button!
android.permission.INTERNET


Allows applications to open network sockets.


android.permission.ACCESS_NETWORK_STATE


Allows applications to access information about networks


android.permission.WAKE_LOCK


Allows using PowerManager WakeLocks to keep processor from sleeping or screen from dimming.


android.permission.WRITE_EXTERNAL_STORAGE


Allows an application to write to external storage.


android.permission.RECEIVE_BOOT_COMPLETED


Allows an application to receive the ACTION_BOOT_COMPLETED that is broadcast after the system finishes booting. If you don't request this permission, you will not receive the broadcast at that time. Though holding this permission does not have any security implications, it can have a negative impact on the user experience by increasing the amount of time it takes the system to start and allowing applications to have themselves running without the user being aware of them. As such, you must explicitly declare your use of this facility to make that visible to the user.


android.permission.CAMERA


Required to be able to access the camera device.


android.permission.VIBRATE


Allows access to the vibrator.


com.google.android.c2dm.permission.RECEIVE
com.ebay.mobile.permission.C2D_MESSAGE
Description:
The Official eBay Android AppGet the power of eBay in the palm of your hand. Easily browse, shop, sell and manage your eBay activity wherever you are.Using eBay while you are on the go is fast and easy with this must-have app for Android! Download the app update today to take advantage of these powerful features and improvements:• Updated payment flow with lots of improvements!

+ Integrated support for earning and using eBay Bucks (US, Canada)

+ Apply eBay gift cards, gift certificates and coupons (US only)

+ Add shipping addresses and select shipping method (US, Canada, UK, Australia, Germany, Austria, France, Italy)• Track packages directly in the app

+ Sellers can enter their shipment info manually or by scanning the shipping label barcode

+ Buyers can track where the package is and when it is expected to arrive• Stay on top of what's important to you with more notifications and reminders.

+ We've added more notifications to let you know when items are ending, you've been outbid, your item has shipped, your item has sold, you've received a message and more

+ A new in-app reminders feature provides quick access to items requiring your action• Quickly find what you are looking for with new and more advanced search and refine features.

+ Browse by category

+ View your favorite sellers items (now with sort and refine too!)

+ Save your favorite searches and be notified when new items are listed

+ Filter your eBay search by brand, size, style, etc.

+ Save your preferred default search options

+ Item View now includes larger, scrollable photos• List your own items to sell in just minutes and take advantage of new listing features (available in US, UK, Australia, Germany and Austria with more countries being added soon).

+ Support for 80 character titles

+ Add a subtitle to your listing

+ Improved photo editing

+ Choose the immediate payment option for Buy It Now items with PayPal

+ Add International shipping options

+ Revise or add additional details to an active eBay listingAnd we won't stop there! Keep on sending us your ideas and suggestions because we are always listening to our customers! Contact customer support through the app or go to our online help forum at:http://getsatisfaction.com/ebaymobile.Key features summary:• Search, watch, and shop eBay on the go

• Sell your stuff! List, relist or revise an eBay item from anywhere (available in US, UK, Australia, Germany and Austria with more countries coming soon!)

• Enter and track package shipment information

• Easy access to My eBay

• Pay for items directly in the app (available in US, UK, Australia, Canada, France, Germany, Austria and Italy)

• Get device notifications when you need to take action or when an item's status changes

• Check in-app reminders to see what requires your attention

• View and leave Feedback

• Save your favorite searches and get notified when new items are listed

• View items from your favorite sellers

• Scan a barcode to find matching items on eBay or prefill listing details from eBay's product catalog

• View seller ratings and recent Feedback

• View seller's other items

• Read and respond to your eBay messages

• Access to 16 eBay sites worldwide

• Support for 5 languages – English, French, Italian, German and Spanish ** -