1. Install Aptoide Client in your device
(if it is not yet installed)
To install Applications from Aptoide you need to install Aptoide Client.
1.1 You can use one of the following ways:
- Download aptoide.apk and install it in your phone:
- Or scan this QR code with your Android device: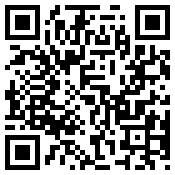 1.2 After the download is complete, go to the notification bar and press de application name (Aptoide.apk) to start installing Aptoide.
1.3 Click in "Install" button to finish Aptoide installation.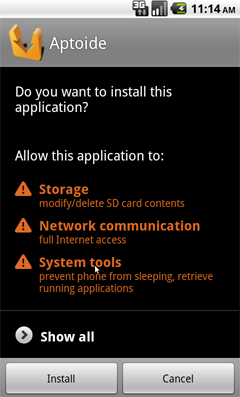 2. Browse through the applications and choose one to install
2.1 Access this application in Aptoide Mobile, by clicking here or scanning the QR Code below.
Temple Run
QR Code


Click the Install button!
android.permission.INTERNET


Allows applications to open network sockets.


android.permission.WRITE_EXTERNAL_STORAGE


Allows an application to write to external storage.


android.permission.INTERNET


Allows applications to open network sockets.


com.android.vending.BILLING
Description:
Run for your life!

The addictive mega-hit Temple Run is now out for Android! All your friends are playing it - can you beat their high scores?!


You've stolen the cursed idol from the temple, and now you have to run for your life to escape the Evil Demon Monkeys nipping at your heels. Test your reflexes as you race down ancient temple walls and along sheer cliffs. Swipe to turn, jump and slide to avoid obstacles, collect coins and buy power ups, unlock new characters, and see how far you can run!


"In every treasure hunting adventure movie there's one scene in which the plucky hero finally gets his hands on the treasure but then has to navigate a maze of booby traps in order to get out alive. Temple Run is this scene and nothing else. And it's amazing." - SlideToPlay.com




REVIEWS


★ "Best endless running game in the App Store… You'll love every minute." - AppleNApps.com


★ "Most thrilling and fun running game in a while, possibly ever." - TheAppera.com


★ "A fast and frenzied iPhone experience." - IGN.com


★ "Very addicting… definitely a very different running game." - Appolicious.com


★ Voted by TouchArcade Forums as Game of the Week


★ One of TouchArcade's Best Games of the Month


★ Over 45 MILLION players worldwide! -
3024

users LIKE this Android application
575

users DON'T LIKE this Android application
Temple Run
3599
Warning:
To access you need to login. Please fill in the fields
here
.
mirabellaandrea40
21:38:26 07/05/13

llllllllllllllliiiiiiiiiiiiissssssssssssiiiiiiiiiiimmmmmoooooooo
ergul-kadir
16:38:18 06/05/13

i
hic iyideyil
Lwintharhtet84
11:23:35 02/05/13

so.........good
carlos gamez
21:26:05 26/04/13

nice
dhanurams57
17:55:48 24/04/13

nice game.,
jesus_dennis24
09:19:03 24/04/13

no puedo istalarlo en mi galaxi c2
jesus_dennis24
09:18:45 24/04/13

no puedo istalarlo en mi galaxi c2
armandotrucks.adlc
21:39:34 13/04/13

no me instala
ghhjsd85
19:04:38 10/04/13

خييييييييييييييال

nu lo asepta el galazy young
avchite43
11:28:54 31/03/13

super...
pauluccio11
13:29:51 25/03/13

Bello
Aeropostal_e96
02:57:41 25/03/13

This is awsome
francescopio55
13:59:51 21/03/13

essere bella app
lol
sanjeev.genex
11:22:58 16/03/13

wow
junaidq99
11:42:27 15/03/13

gio
dj ferveiro
15:57:14 12/03/13

porque pollas no se puede
descargar
edoardone
15:45:12 12/03/13

brutto piu bello il due io cielo tutti e due
cocacolaycocainagratis
22:30:23 08/03/13

vale para el galaxi mini
ignacio456.im
02:00:07 07/03/13

muy bueno vale la pena
descargarlo
albertocanepa-99
18:01:19 06/03/13

belloooooooooooo
bum_sha_ka_la_ka
10:38:26 05/03/13

body...i love this game.soo much
galaxy Y
09:11:43 03/03/13

this should be pretty cool.

mi dite perke si blocca ed esce. una cosa. rispondete x favore
junior8833
16:18:10 02/03/13

nn me lo fa scaricare per next turbo
joaokio
17:47:40 28/02/13

zika

Cazzo x il next nn funkia
mallo98
14:50:10 24/02/13

nn me lo fa installare
nika.bokic
16:01:02 23/02/13

odlicna igrica
jonathanhill787
21:53:07 18/02/13

i have a doubletime smsung would it work please help me

Uff... X il next ancorora noo
funky.freshsuper
17:34:44 11/02/13

god game and eAsily hacked

It's doesn't goes I can't open this app.
Me pone que se ha interrumpido inesperadamente y no puedo abrirlo.Una pena.
melvin.8313
08:27:40 09/02/13

NE FONCTIONNE PAS.SUR LE.SAMSUNG GALAXY ACE !!!!!! SA M'ÉNERVE !!!!!!!

why it doesn't work with galaxy y?
kikka-bald
21:53:42 02/02/13

lo adoroooo ma temple run 2 e twmple run con ribelle the brave sono meglio :"3
alfr3oonxksa
21:17:09 02/02/13

ؤمنلال
Galmosahev
15:58:17 02/02/13

;hehi
sepegr1315
20:49:23 01/02/13

what a god game¡¿
kanijajones
06:15:05 01/02/13

this game. is so alsome
gago kago en ur ano putu567
02:59:23 31/01/13

está de putasa hay una tipa en el juego que está requete buena como pa me tele e pene y los huevos a dentro
wwefinixzin47
08:34:58 30/01/13

l like it
Mouadroma1995
14:40:49 28/01/13

Nic cool