1. Install Aptoide Client in your device
(if it is not yet installed)
To install Applications from Aptoide you need to install Aptoide Client.
1.1 You can use one of the following ways:
- Download aptoide.apk and install it in your phone:
- Or scan this QR code with your Android device: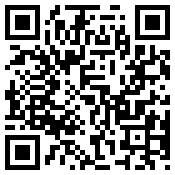 1.2 After the download is complete, go to the notification bar and press de application name (Aptoide.apk) to start installing Aptoide.
1.3 Click in "Install" button to finish Aptoide installation.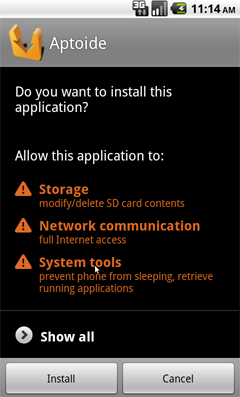 2. Browse through the applications and choose one to install
2.1 Access this application in Aptoide Mobile, by clicking here or scanning the QR Code below.
CamDictionary
QR Code


Click the Install button!
android.permission.INTERNET


Allows applications to open network sockets.


android.permission.CAMERA


Required to be able to access the camera device.


android.permission.MOUNT_UNMOUNT_FILESYSTEMS


Allows mounting and unmounting file systems for removable storage.


android.permission.WRITE_EXTERNAL_STORAGE


Allows an application to write to external storage.


android.permission.VIBRATE


Allows access to the vibrator.


android.permission.READ_PHONE_STATE


Allows read only access to phone state.


android.permission.WAKE_LOCK


Allows using PowerManager WakeLocks to keep processor from sleeping or screen from dimming.


Description:
Translate with your eyesCamDictionary is a Portable Snap Translator. Snap a picture of any text, and get the real-time translation!Why CamDictionary?

Youtube:http://www.youtube.com/watch?v=qLxCo6bciQwImagine encountering with text you've never seen and hardly know how to type, any dictionary requiring manually text entry will be useless.But with CamTranslator, no strange words will get in your way! Simply put the text in phone camera viewfinder, CamTranslator will auto-recognize the text and translate for you real!With CamDictionary, you can understand without knowing the language. It is capable of:1. Snap Translation---- We can recognize and translate up to 14 languages, including Chinese (Simplified), Chinese (Traditional), English, French, Spanish, Portuguese, German, Italian, Dutch, Swedish, Finnish, Danish, Norwegian, Hungarian and etc.2. Instant Translation Mode--- Open Camera , shake the mobile phone slightly, it can recognize and translate the word near cursor in viewfinder automatically.3. Auto-recognize language type and translate --- You can understand without knowing the language.4. Multi Language inter-translation--- It supports Google translation crossly among up to 54 languages, it also supports 24 languages' Google Dictionaries.5. Auto-detect text orientation ---- Auto-detect the text orientation in the image and rotate it to the upside position.6. Share translation---- Share the translation via Email & SMS anytime and anywhere.7. My Vocabulary ---- A must-have learning tool to help you review history records. ** -
17

users LIKE this Android application
1

user DOESN'T LIKE this Android application
CamDictionary
18