1. Install Aptoide Client in your device
(if it is not yet installed)
To install Applications from Aptoide you need to install Aptoide Client.
1.1 You can use one of the following ways:
- Download aptoide.apk and install it in your phone:
- Or scan this QR code with your Android device: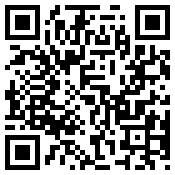 1.2 After the download is complete, go to the notification bar and press de application name (Aptoide.apk) to start installing Aptoide.
1.3 Click in "Install" button to finish Aptoide installation.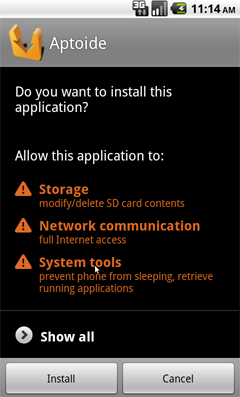 2. Browse through the applications and choose one to install
2.1 Access this application in Aptoide Mobile, by clicking here or scanning the QR Code below.
PES2011
QR Code


Click the Install button!
android.permission.WAKE_LOCK


Allows using PowerManager WakeLocks to keep processor from sleeping or screen from dimming.


android.permission.ACCESS_NETWORK_STATE


Allows applications to access information about networks


android.permission.INTERNET


Allows applications to open network sockets.


android.permission.WRITE_EXTERNAL_STORAGE


Allows an application to write to external storage.


com.android.vending.CHECK_LICENSE
Description:
PES 2011 – the unrivalled football experience on the Android platform!
The unrivalled and award-winning football simulation is entering its first season on the Android platform!
Immerse yourself in unprecedented football atmosphere and the true PES experience with PES 2011.
Features:
- Unrivalled realism: Experience incredible gameplay and focus on tactics, goals and winning trophies while competing against the most advanced team and player AI on the market.
- Exclusive UEFA Club Competitions: PES 2011 includes many of the best European club teams in the officially licensed UEFA Champions League™ and UEFA Europa League™ modes.
- Outstanding Accessibility for Beginners and Experts: The uniquely designed true flowTM control system provides instant access for players of all levels by utilising the accelerometer and AI-supported touch controls. More advanced players are presented with unlimited freedom of play by being able to master classic console-style controls with virtual pad and buttons.
- Stunning graphics: Detailed stadiums and pitches provide the perfect visual environment for exciting matches
PES 2011 – the unrivalled football experience on the Android platform!
Warning:
To access you need to login. Please fill in the fields
here
.
nizamtaufik7
13:49:05 18/05/13

opo cak angel di donlot

بیایید به این مارکت و کمک کنید تا بهترین مارکت رایگان اپتوید رو بسازیم
watery-boy

Add this store please if you need some HD games....
zaryab.store.aptoide.com
romil.mota94
10:04:44 17/05/13

dis game is not working in Samsung Galaxy S III ... plz fix it
dheeraj
11:07:18 16/05/13

this app dont work at all it is asking validayion key
lukas-gb
03:56:42 16/05/13

no me funciona el juego en mi xperia play :(((
alaa198925
23:00:37 15/05/13

ذكر
gurgelomar
19:37:46 14/05/13

to baixando tomara q funfe
sebasfl24
19:09:01 14/05/13

Dr
Galaxy ace
07:51:00 12/05/13

geht nicht bei Samsung galaxy ace :-(
galaxy s3
04:39:56 12/05/13

eg raaa arxsnis tamassh:((((((
Karraskillo
23:07:47 11/05/13

Me mola es super

uma merda. nau baixem esse karalho de merda
matteocarena2000
13:53:11 10/05/13

nn me lo scarica
dinoricky00
01:26:28 10/05/13

tienes k descargar el sd + el apk
niko.13_bt_tlla
05:42:45 09/05/13

no me funciona :(
el_principe_19948
19:42:43 08/05/13

esta bueno

quando eu baixo o jogo n funciona
abu.3li
12:57:55 06/05/13

فيفا افضل
mazi.b_2012
09:44:55 06/05/13

عالیییییییه
samsung s2lite
01:29:30 05/05/13

nao consigo jogar baixo mas nao roda no meu galaxy
carlosfudex
04:55:38 03/05/13

eu to baixando! ai o aptoide eu melho qe eu conheci da pra baixar jogo pago de graça everdade acrediten:)

it a fucking fake game. do not download
miqueias_delarmi
03:01:17 02/05/13

una mierda
mdjcuxhd
13:52:38 30/04/13

no deja descargar los archivos para q arranque el juego
gastonsubiabre98
19:04:33 29/04/13

no se puede descargar los datos
tonythebest.9818
11:28:51 28/04/13

dice ke nn ce il server
tonythebest.9818
11:28:51 28/04/13

dice ke nn ce il server
leon.kerdic
05:38:19 25/04/13

njob
AndroidRalf
06:12:33 24/04/13

no sirve no deja descargar los datos adicionales espero lo arreglen pronto
wisin-jony
05:51:05 23/04/13

por q dice k el servidor no esta listo
yopi339
18:58:36 22/04/13

izinkan
yopi339
18:58:25 22/04/13

izinkan

como se puede descargar a mi no me deja
kratoss1321
11:02:26 22/04/13

السلام عليكم
samoc-111
19:18:51 20/04/13

حملتها وبعدين ضغطت ok وبعدين اللعبة تقفل ارجو الحل ؟؟؟؟
samoc-111
19:18:48 20/04/13

حملتها وبعدين ضغطت ok وبعدين اللعبة تقفل ارجو الحل ؟؟؟؟
m.mielenz96
07:58:53 20/04/13

<i> low shit </i>
jorge calvillo
04:59:56 19/04/13

por que al querer instalar el pes 2011 me dice que el servidor no esta listo para realizar la descarga
maungyinhtay2013
14:52:10 17/04/13

a few like
Nicara..Nor
18:18:19 12/04/13

no se baja ninguna aolicacion de esta pagina?

how to
get this game i cant enter on this game
abu.3li
13:46:01 11/04/13

هلا