1. Install Aptoide Client in your device
(if it is not yet installed)
To install Applications from Aptoide you need to install Aptoide Client.
1.1 You can use one of the following ways:
- Download aptoide.apk and install it in your phone:
- Or scan this QR code with your Android device: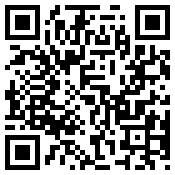 1.2 After the download is complete, go to the notification bar and press de application name (Aptoide.apk) to start installing Aptoide.
1.3 Click in "Install" button to finish Aptoide installation.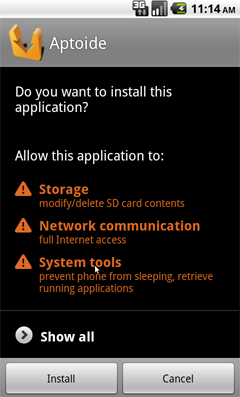 2. Browse through the applications and choose one to install
2.1 Access this application in Aptoide Mobile, by clicking here or scanning the QR Code below.
Beautiful Widgets
QR Code


Click the Install button!
android.permission.INTERNET


Allows applications to open network sockets.


android.permission.ACCESS_FINE_LOCATION


Allows an application to access fine (e.g., GPS) location.


android.permission.ACCESS_COARSE_LOCATION


Allows an application to access coarse (e.g., Cell-ID, WiFi) location.


android.permission.ACCESS_NETWORK_STATE


Allows applications to access information about networks


android.permission.ACCESS_WIFI_STATE


Allows applications to access information about Wi-Fi networks.


android.permission.CHANGE_WIFI_STATE


Allows applications to change Wi-Fi connectivity state.


android.permission.BLUETOOTH


Allows applications to connect to paired bluetooth devices


android.permission.BLUETOOTH_ADMIN


Allows applications to discover and pair bluetooth devices.


android.permission.WRITE_SETTINGS


Allows an application to read or write the system settings.


android.permission.WRITE_EXTERNAL_STORAGE


Allows an application to write to external storage.


android.permission.WAKE_LOCK


Allows using PowerManager WakeLocks to keep processor from sleeping or screen from dimming.


android.permission.WRITE_APN_SETTINGS


Allows applications to write the apn settings.


android.permission.ACCESS_WIMAX_STATE
android.permission.CHANGE_WIMAX_STATE
com.android.vending.CHECK_LICENSE
android.permission.BATTERY_STATS


Allows an application to collect battery statistics


Description:
Animated radar & more! Download the power of The Weather Channel to your phone.

Thank you to everyone who has provided us with detailed feedback and useful suggestions regarding our new user interface. We strive to build easy-to-use applications while at the same time building navigation that allows for a fuller feature set that is easy to access.

Developing a rich weather experience is our top priority. We are currently working on addressing specific complaints regarding a few known bugs that still exist, but please know that we continue to optimize the app to address consumer feedback.

The TWC Mobile team greatly appreciates our customers' feedback and patience as we work on our next build. If you are in the Atlanta area & want to be a part of user testing: TWCResearch@weather.com

The Weather Channel for Android adds new features – a new user interface, integration of iWitness Weather and international language support – while still encompassing the enhanced features of its original version, including fully customizable weather maps, animated radar maps, detailed weather conditions and forecasts, severe weather alerts, and a notification bar with the current temperature and severe weather alert indicator.

The current release fixes a few bugs and includes new additions:
•Based on consumer feedback, a new user interface includes easier navigation between main weather screens and easy-to-access maps, new search with a less imposing search bar, a new UI for landscape mode, and deletion of the confirmation box on app exit
•Integration of iWitness Weather, TWC's user-generated community, allows users to tell their own weather story by uploading photos and videos as weather happens.
•Internationalization to support Spanish, French and UK English languages

In addition, the app offers all new features exclusively for Verizon 4G/LTE customers through the end of the year.

These features include near-HD quality videos and the addition of TruPoint maps, which will offer radar, temperature and cloud maps with forecasts for up to 6 hours in the future. iWitness Weather will be offered via the Verizon 4G app as well.

The Weather Channel for Android 3.2 still includes the content and features consumers have come to expect. It still offers the "find me" function that allows consumers to get weather forecasts for their pinpointed location or search by city, ZIP code, street address or landmark. The app also includes interactive maps that are fully customizable and feature the functionality of Google Maps. Customers can decide to display layers such as radar, clouds, UV index, rainfall and more.


67

users LIKE this Android application
5

users DON'T LIKE this Android application
Beautiful Widgets
72
Users comments about Beautiful Widgets
Comment +
Warning:
To access you need to login. Please fill in the fields
here
.
khatibi.asiantac
23:04:21 20/04/13

y

The app doesnt work!! It says "beautiful widget beta is ended....." and i cant move into the app!!

Aplicativo razoavelmente bom. Deixa o aparelho um pouco lento. O Widget "Mobile" (Toogle) não funciona no Samsung Galaxy Note.

The program is quite good. It let's the cell phone slowly. The Widget "Mobile"doesn't work at Samsung Galaxy Note.

Shut up bitch, arrete de pourrir toutes les applis avec tes commentaires a la con