1. Install Aptoide Client in your device
(if it is not yet installed)
To install Applications from Aptoide you need to install Aptoide Client.
1.1 You can use one of the following ways:
- Download aptoide.apk and install it in your phone:
- Or scan this QR code with your Android device: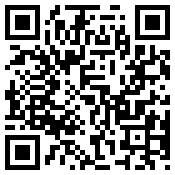 1.2 After the download is complete, go to the notification bar and press de application name (Aptoide.apk) to start installing Aptoide.
1.3 Click in "Install" button to finish Aptoide installation.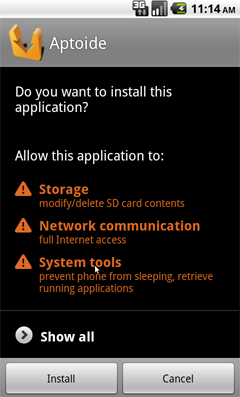 2. Browse through the applications and choose one to install
2.1 Access this application in Aptoide Mobile, by clicking here or scanning the QR Code below.
Audio Cambridge Advanced TR
QR Code


Click the Install button!
Specifications:
Min SDK:
5
Min Screen:
Small
Permissions:
android.permission.READ_PHONE_STATE
Allows read only access to phone state.
android.permission.INTERNET
Allows applications to open network sockets.
android.permission.ACCESS_WIFI_STATE
Allows applications to access information about Wi-Fi networks.
android.permission.WRITE_EXTERNAL_STORAGE
Allows an application to write to external storage.
android.permission.ACCESS_NETWORK_STATE
Allows applications to access information about networks
Description:
Audio Cambridge English dictionary with 170,000 words, phrases and examples.

The Audio Cambridge Advanced Learner's Dictionary provides definitions for about 170,000 words, phrases and examples and is compiled to offer what learners need most in a dictionary.


The Third Edition offers new, up-to-date vocabulary (e.g. sex up, speed-dating, whiteboard), new 'mini-collocation' boxes, and new frequency information to highlight the most important words to learn. The new Cambridge Advanced Learner's Dictionary gives you everything you need to learn English and pass exams!

This is a fully functional trial!


Over 170,000 words, phrases and examples


* Over 79,800 high-quality English audio recordings with UK and US English pronunciations compiled and recorded by Cambridge University Press

* You will find newly added Illustrations and photos to illustrate the word definitions.

* Common grammar and style and usage labels included

* Examples included in the word definitions show you how to use words in the most natural and fluent way.

* All the important new words that have come into the language (e.g. dirty bomb, lairy, 9/11, clickable)

* Only words from a defining vocabulary used to help make definitions easy to understand

* Over 90,000 examples, mainly full sentences, show you how English is used in context and help you write natural English.

* 25,000 collocations show the way words work together in English

* Automatic recognition of inflected forms


The MSDict Dictionary Format


The Cambridge Advanced Learner's Dictionary is here presented in MSDict electronic format. MSDict offers best experience in mobile reference and is available for any handheld platform.


* Quick dynamic search of words while you type

* Transcriptions facilitating pronunciation

* Hyperlinks between different related words

* History to see the last 50 words you have looked up

* Support for memory cards

* Filters to help you locate the word you are searching for:

o Fuzzy filter- used when you are not sure of the correct spelling of a word

o Keyword-used to locate the instances of a key word within other compound words

o Wild card - "?" and "*" replace a letter and group of letters in words

* Fast article scrolling

* Ability to have dictionary Word of the day as a widget on the phone home screen

* Ability to search words in the installed dictionaries through the standard phone search feature -
22

users LIKE this Android application
5

users DON'T LIKE this Android application
Audio Cambridge Advanced TR
27