1. Install Aptoide Client in your device
(if it is not yet installed)
To install Applications from Aptoide you need to install Aptoide Client.
1.1 You can use one of the following ways:
- Download aptoide.apk and install it in your phone:
- Or scan this QR code with your Android device: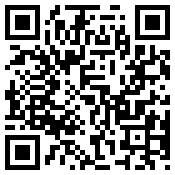 1.2 After the download is complete, go to the notification bar and press de application name (Aptoide.apk) to start installing Aptoide.
1.3 Click in "Install" button to finish Aptoide installation.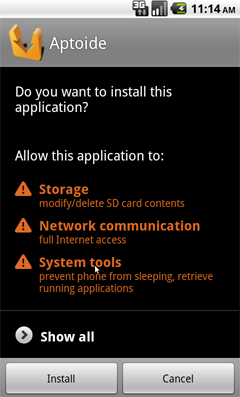 2. Browse through the applications and choose one to install
2.1 Access this application in Aptoide Mobile, by clicking here or scanning the QR Code below.
Plants Vs Zombies
QR Code


Click the Install button!
android.permission.WAKE_LOCK


Allows using PowerManager WakeLocks to keep processor from sleeping or screen from dimming.


android.permission.READ_PHONE_STATE


Allows read only access to phone state.


android.permission.BATTERY_STATS


Allows an application to collect battery statistics


android.permission.MODIFY_AUDIO_SETTINGS


Allows an application to modify global audio settings.


android.permission.SET_ORIENTATION


Allows low-level access to setting the orientation (actually rotation) of the screen. Not for use by normal applications.


android.permission.INTERNET


Allows applications to open network sockets.


android.permission.ACCESS_NETWORK_STATE


Allows applications to access information about networks


android.permission.VIBRATE


Allows access to the vibrator.


Description:
Stem a zombie attack on your Android!

Get ready to soil your plants in the hit PopCap® game! A mob of fun-loving zombies is about to invade your home, and your only defense is an arsenal of 49 zombie-zapping plants. Use peashooters, wall-nuts, cherry bombs and more to slow down, confuse, weaken and mulchify 26 types of zombies before they can reach your front door.

**GAME ALERT** Play the Tetris® game – for FREE! Loved by hundreds of millions of players worldwide, this all-time blockbuster is an absolute essential: http://goo.gl/ZhfmV

Each zombie has its own special skills, so you'll need to think fast and plant faster to combat them all. But be careful how you use your limited supply of greens and seeds… as you battle the fun-dead, obstacles like a setting sun, creeping fog and a swimming pool add to the challenge. The fun never dies!

Game Features

• Conquer all 50 levels of Adventure mode — through day, night and fog, in a swimming pool and on the rooftop
• Battle 26 types of zombies including pole-vaulters, snorkelers and bucket-heads
• Earn 49 powerful perennials and collect coins to buy a pet snail, power-ups and more
• Open the Almanac to see all the plants and zombies, plus amusing "facts" and quotes
• Collect 10 fun-dead achievements
• Enjoy all the zombie-zapping fun of the hit PC/Mac game — fully optimized for Android!
• Hilarious graphics, great soundtrack and a bonus music video
------------------------------------------------------------------------------------------------------------------

Voted Game of the Year* by over 30 publications including PC Gamer, USAToday.com and Chicago Sun-Times

*PC/Mac version
--------------------------------------------------------------------------------------------------------------------


Language Support: English, French, Italian, German, Russian, Spanish, Simplified & Traditional Chinese

Requirements:

• Supports HVGA, FWVGA-WVGA and qHD resolutions.
• Requires Android 2.2+
• Features may vary by mobile device

Discover more games from EA like Tetris® free, SimCity™ Deluxe, and Need for Speed™ Hot Pursuit. See all our games for Android now!

Be the first to know! Get inside EA info on great deals, plus the latest game updates, tips, and more!
VISIT US: ea.com
FOLLOW US: twitter.com/eamobile
LIKE US: facebook.com/eamobile
WATCH US: youtube.com/eamobilegames

End User License Agreement: http://tos.ea.com/legalapp/mobileeula/US/en/Android/.
7066

users LIKE this Android application
872

users DON'T LIKE this Android application
Plants Vs Zombies
7938
Users comments about Plants Vs Zombies
Comment +
Warning:
To access you need to login. Please fill in the fields
here
.
massiell1797
03:19:41 21/05/13

esto no sirve!!
drakl0755
17:15:35 20/05/13

no sirbe
adamsedr85
15:04:06 20/05/13

Awsome but lagg sometimos its finta :-)
vepa2561@gmail.com
04:57:31 20/05/13

se para mucho plantas contra zombies q tengo q hacer para descargarlo sin q se trave
mikethetroller
01:01:10 20/05/13

jaja el fondo se ve de blanco que fail... y eso que se me carga bien en el samsung galaxy mini...
alexpsp_xulillo
21:42:01 19/05/13

hola cuando vais ha actualizar plantas vs zombis
al_hdzguillen
20:56:58 19/05/13

no se
al_hdzguillen
20:56:45 19/05/13

no se

una pregunta donde se puede actualizar plantas contra zombies
Respondan rapido
javiersiek
15:21:46 19/05/13

Tengo un Samsung S3 y no me carga
Todos los juegos de EA ya no funcionan.
al_hdzguillen
13:51:36 19/05/13

casi me salia
al_hdzguillen
13:49:32 19/05/13

el juego es divertido pero ami no me carga
joel nicanor
04:59:37 19/05/13

para descargarlo opriman las letras q salen alado de donde dice vercion y ya oprimido se entra enseguida a gogle y les aparece si lo quieren descargar y ya lo demas se hace soloo
mauricio
00:22:05 19/05/13

oye sino no te sirvio entren varias veces y para El que subio El juego here's in +/+-+!+//!!!!!!! mas in =£×¢_|÷=!!!!!
Liston
cesar.ilse.herrera
19:46:43 18/05/13

ne no se mira
federicospinello038
17:36:16 18/05/13

sto gioco per me fa cagare!!
pablinho_01
14:38:14 18/05/13

Qualcuno mi spiega che cazzo significa apk non valido?
pablinho_01
14:37:10 18/05/13

Non si installa!

بیایید به این مارکت و کمک کنید تا بهترین مارکت رایگان اپتوژد رو بسازیم
watery-boy
sexy_mox
22:18:50 17/05/13

Esto no sirve no trae jardin zen es MIERDA

i like this game dowload it
elbebekiler_2660
10:58:06 17/05/13

seve en blanco y se cierra
anajaesmith32
00:19:00 17/05/13

this isnt working
vicentem157
23:17:04 16/05/13

k chido juego k no
popo71177
12:23:02 16/05/13

فاشلة
hectorflowelboss
05:28:57 16/05/13

no inatala :-(
sundaedavis
00:53:10 16/05/13

I love your game!!!!!!! ¡!!!!!!!!!!!!??!!!!!!!!!!
carloxefrainx
22:49:42 15/05/13

Cool esta chido
Diablito_carlitos99
22:39:32 15/05/13

No lo puedo descargar me dice archivo no soportado? Por qe y no me aparece plants vs zombies en mi Play store!

ya se me bloqueo 1na vez y lo borre y lo estoy descargando pero si se vuelve a travar
pabloeroacci
19:02:58 15/05/13

pues rafa a mi no me funciona y me voy a quitar de usuario como no lo arreglen porque es una vergüenza
resetgregorio
15:56:23 15/05/13

galaxy young se ve q esta chido like si esta chido comenta si edta de la mierda
Williams
15:03:44 15/05/13

no funciona en el mío dice que no esta disponible tengo el Sony ericsson wt19a y no funciona díganme por que
me esta un poco bien
19:53:34 14/05/13

en mi samsung galaxy young no.se be tan bien por que al prinsipio se ve todi blanco.pero a un asi me gusta

yo tengo el samsung galaxy young y soy super usuario y me funciona muy bien
pabloeroacci
14:31:03 14/05/13

no funciona es una puta mierda.ya tenéis un usuario menos en aptoide y los seguireis teniendo.
alexpsp_xulillo
10:47:26 14/05/13

para cuando vam a cambiar la version de plantas vs zombis que tiene la antigua y en el play store esta la nueva que es la 4.9.2

si corre bien en un optimus black p970. el unico problema k tiene es k absses se trava un poco

si corre bien en un optimus black p970. el unico problema k tiene es k absses se trava un poco