1. Install Aptoide Client in your device
(if it is not yet installed)
To install Applications from Aptoide you need to install Aptoide Client.
1.1 You can use one of the following ways:
- Download aptoide.apk and install it in your phone:
- Or scan this QR code with your Android device: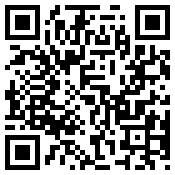 1.2 After the download is complete, go to the notification bar and press de application name (Aptoide.apk) to start installing Aptoide.
1.3 Click in "Install" button to finish Aptoide installation.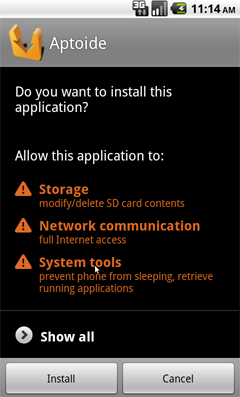 2. Browse through the applications and choose one to install
2.1 Access this application in Aptoide Mobile, by clicking here or scanning the QR Code below.
Taptu
QR Code


Click the Install button!
android.permission.INTERNET


Allows applications to open network sockets.


android.permission.WRITE_EXTERNAL_STORAGE


Allows an application to write to external storage.


android.permission.ACCESS_WIFI_STATE


Allows applications to access information about Wi-Fi networks.


android.permission.ACCESS_NETWORK_STATE


Allows applications to access information about networks


android.permission.WAKE_LOCK


Allows using PowerManager WakeLocks to keep processor from sleeping or screen from dimming.


android.permission.VIBRATE


Allows access to the vibrator.


com.android.vending.BILLING
android.permission.NFC


Allows applications to perform I/O operations over NFC.


Description:
The Best News Reader App for 2011. Taptu - DJ your News.

Taptu is a social news feed reader that puts all of the stuff you're into in one app. Taptu lets you add Facebook, Twitter, LinkedIn and the content from your favorite web sites and blogs (via RSS or Twitter) and transforms them into gorgeous visual streams.


You can now synch your streams between multiple devices if you login to Taptu with Facebook, Twitter LinkedIn or Google account.


If you find news or a stream you like you can share with friends via Facebook, Twitter, Linkedin, email.


You can save articles for later using Instapaper, Pocket or Taptu's bookmarks to view them later on your browser at taptu.com.


Features:


* Getting started: We've got a new step-by-step introductory guide to help you make the most out of Taptu and its cool features. Our introduction will help you create a user account to login, suggest streams that may be relevant, and show you how to add, mix and create streams tailored to your reading habits.


* Login to Taptu using, Facebook, Twitter, Linkedin or Google and all the streams and the stories that you read can be imported on a different devices and taptu.com when you login there as well.


* Discover thousands of streams on your favorite topics from a wide variety of web sites, blogs, newspapers and magazines in the StreamStore


* Search for RSS Feeds using Bing or Import them from Google Reader


* DJ Your News: Do you have 5 different sports streams you follow? Merge them all together to create you own Sports stream and color code it to your liking. And why not share your new stream with your friends?


* Create Search Streams from Keywords: Are you a Lady Gaga fan? Search for Lady Gaga on the StreamStore and you can create a stream dedicated to all the news of "Lady Gaga" from Music streams or Fashion streams or a combination of both.


* Search in Streams: Have you added the Games streams and you want to find reviews for "Call of Duty"? You can now search in any stream. What's more you can save your search as a new Search Stream allowing you to follow all the news for "Call of Duty" as it comes out.


* Discover Stories related to the one you are reading as well as Streams specific to the Topic/Genre the article you are reading about.


* All types of Widgets: Lists, Cards and Stack widgets, even scrollable on Ice Cream Sandwich and Honeycomb. Customize the size, the color, the frequency they update.


* Add as many Facebook or Twitter accounts as you want, add your LinkedIn account as well.


* Update your status, Like and Comment from your Facebook stream


* Tweet, RT, Quote a Tweet from your Twitter stream


* Post a Status Update, Like and Comment from your Linkedin stream


* Share with friends: Share stories and streams with your friends on Twitter, Facebook and Linkedin.


* See full articles that friends share via Twitter and Facebook: Taptu will convert links your friends share into a full article view.


* No time to read now? Bookmark articles to read later on the same or a different device and Taptu on the web at Taptu.com, or save to Instapaper and Read It Later.




Press Reviews:


VentureBeat: "…A deeper news reading experience than most competitors, in particular because I was able to easily combine news sources…the app also does a great job of recommending stories."


Brothersoft: "Again, Taptu has taken advantage of the fact that it is a veteran in the field of mobile search. It is in the search aspects that it is able to dominate rival Flipboard"


Get in Touch: We love feedback! Please say hello and let us know how we're doing, whether you hate it, love it, or have an idea to improve Taptu. We can be reached on: @Taptu on Twitter, on Facebook, or atmytaptu-androidmarket@taptu.com. Thanks! -