1. Install Aptoide Client in your device
(if it is not yet installed)
To install Applications from Aptoide you need to install Aptoide Client.
1.1 You can use one of the following ways:
- Download aptoide.apk and install it in your phone:
- Or scan this QR code with your Android device: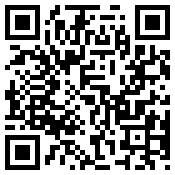 1.2 After the download is complete, go to the notification bar and press de application name (Aptoide.apk) to start installing Aptoide.
1.3 Click in "Install" button to finish Aptoide installation.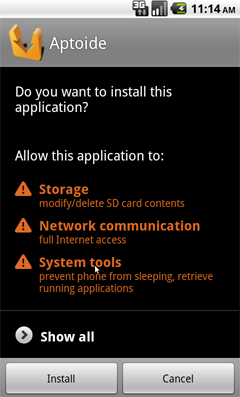 2. Browse through the applications and choose one to install
2.1 Access this application in Aptoide Mobile, by clicking here or scanning the QR Code below.
Alarm Clock Plus★
QR Code


Click the Install button!
android.permission.RECEIVE_BOOT_COMPLETED


Allows an application to receive the ACTION_BOOT_COMPLETED that is broadcast after the system finishes booting. If you don't request this permission, you will not receive the broadcast at that time. Though holding this permission does not have any security implications, it can have a negative impact on the user experience by increasing the amount of time it takes the system to start and allowing applications to have themselves running without the user being aware of them. As such, you must explicitly declare your use of this facility to make that visible to the user.


android.permission.WAKE_LOCK


Allows using PowerManager WakeLocks to keep processor from sleeping or screen from dimming.


android.permission.VIBRATE


Allows access to the vibrator.


android.permission.WRITE_SETTINGS


Allows an application to read or write the system settings.


android.permission.DISABLE_KEYGUARD


Allows applications to disable the keyguard.


android.permission.READ_PHONE_STATE


Allows read only access to phone state.


android.permission.WRITE_EXTERNAL_STORAGE


Allows an application to write to external storage.


android.permission.FLASHLIGHT


Allows access to the flashlight.


android.permission.INTERNET


Allows applications to open network sockets.


android.permission.ACCESS_NETWORK_STATE


Allows applications to access information about networks


Description:
Ensure you always wake up with Alarm Clock Plus! Free! Get Alarm Clock Plus Now!

ALARM CLOCK PLUS IS THE MOST FULLY FEATURED AND MOST STABLE ANDROID ALARM CLOCK!


FREE WITH NO LIMITATIONS!

OVER 1 MILLION DOWNLOADS!


"…quite simply, the best alarm clock I've ever used–including physical alarm clocks of the digital, analog, and wind-up varieties." -Lincoln Spector PCWorld Magazine


Alarm Clock Plus features include:

-Unlimited alarms

-alarm clock while muted

-auto snooze alarm clock

-auto dismiss alarm clock

-NAP ALARM CLOCK

-MATH ALARM CLOCK (require math problem to be solved to dismiss or snooze alarm clock)

-MUSIC ALARM CLOCK

-PLAYLIST ALARM CLOCK

-APP ALARM CLOCK

-ALARM CLOCK VOLUME FADE-IN

-FLASHLIGHT for alarm clock

-one time skip for repeating alarms

-shake to snooze or dismiss alarm clock

-change snooze time after alarm clock snoozed

-set alarm and nap alarm defaults

-alarm clock speaks time and weather

-most settings are independent for each individual alarm

-alarm clock volume independent of system

-backup alarms and alarm clock configuration to sdcard

-Extremely simple to navigate


-fully configurable desk clock display, or disable desk clock portion entirely, leaving a simple alarm clock.


-run Alarm Clock Plus or any app upon plug-in

-transparent clock widgets, multiple clock sizes, and nap alarm widgets


-AND MUCH MORE! All options configurable, spend time with Alarm Clock Plus and set it up exactly how you want it!


ADD ALARM CLOCK PLUS TO IGNORE LIST IN TASK KILLERS!


KW: alarm, clock, alarm clock, alarm clock plus, alarm clock plusv2, alarmclock, alarmclockplus, acp, alarms, clocks, alarm clocks -
12

users LIKE this Android application
0

users DON'T LIKE this Android application
Alarm Clock Plus★
12