1. Install Aptoide Client in your device
(if it is not yet installed)
To install Applications from Aptoide you need to install Aptoide Client.
1.1 You can use one of the following ways:
- Download aptoide.apk and install it in your phone:
- Or scan this QR code with your Android device: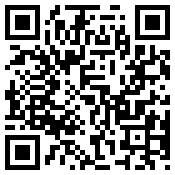 1.2 After the download is complete, go to the notification bar and press de application name (Aptoide.apk) to start installing Aptoide.
1.3 Click in "Install" button to finish Aptoide installation.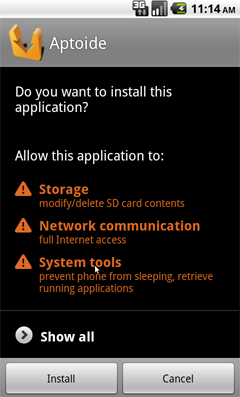 2. Browse through the applications and choose one to install
2.1 Access this application in Aptoide Mobile, by clicking here or scanning the QR Code below.
2 Player Reactor
QR Code


Click the Install button!
android.permission.WAKE_LOCK


Allows using PowerManager WakeLocks to keep processor from sleeping or screen from dimming.


android.permission.INTERNET


Allows applications to open network sockets.


android.permission.READ_PHONE_STATE


Allows read only access to phone state.


android.permission.ACCESS_NETWORK_STATE


Allows applications to access information about networks


Description:
2 Player Reactor is a fast, clean and funny reaction game for two on the same device.

Challenge your friends (or enemies) to a battle of reflexes, wits and knowledge! Great as a bar game, ice breaker or to decide who has to do the dishes!2 Player Reactor - 1.6

FEATURES:
- Two players on the same device
- Simultaneous and fast gameplay
- A lot of different mini-games:
- Word matches color
- 5 different shapes
- Mouse in maze
- Countdown hits zero
- Sad Smiley
- React when white
- Country and Capital
- ABC (new in v1.5!)
- Find Pairs

"Best of its Kind" - bestappsmarket.com
"If you have a spare 10 minutes and you are with someone you love, then 2 Player Reactor may well be the best thing you can do together standing up while holding a phone." - t3.com

Now available in 18 languages. Fully customizable playing modes, duration and settings, fully compatible with all screen sizes (especially nice on tablets!).

Please send me an email if there is a problem with languages or ads!

The upgraded version, 4 Player Reactor, is also available on the Android Market and it contains many additional modes, supports up to 4 Players, a single-player training mode, more difficulties and lots of extra settings!

Localized to: English, Danish, German, Chinese, Finnish, Dutch, Polish, Korean, French, Croatian, Greek, Serbian, Turkish, Czech, Spanish, Italian, Portuguese, Russian, Portuguese (Brazil), Chinese (Taiwan)

Getting Error -18 during installation? Unmount the SD card first (for example by connecting the phone to a computer and choosing file transfer), install the game, and re-mount.


24

users LIKE this Android application
8

users DON'T LIKE this Android application
2 Player Reactor
32