1. Install Aptoide Client in your device
(if it is not yet installed)
To install Applications from Aptoide you need to install Aptoide Client.
1.1 You can use one of the following ways:
- Download aptoide.apk and install it in your phone:
- Or scan this QR code with your Android device: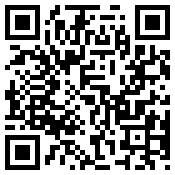 1.2 After the download is complete, go to the notification bar and press de application name (Aptoide.apk) to start installing Aptoide.
1.3 Click in "Install" button to finish Aptoide installation.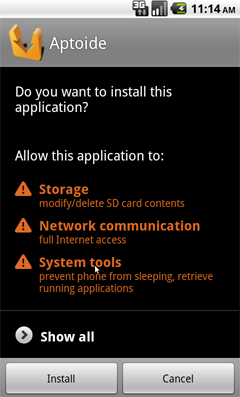 2. Browse through the applications and choose one to install
2.1 Access this application in Aptoide Mobile, by clicking here or scanning the QR Code below.
Camera360 Ultimate
QR Code


Click the Install button!
com.android.launcher.permission.INSTALL_SHORTCUT
android.permission.ACCESS_NETWORK_STATE


Allows applications to access information about networks


android.permission.CAMERA


Required to be able to access the camera device.


android.permission.VIBRATE


Allows access to the vibrator.


android.permission.ACCESS_COARSE_LOCATION


Allows an application to access coarse (e.g., Cell-ID, WiFi) location.


android.permission.ACCESS_FINE_LOCATION


Allows an application to access fine (e.g., GPS) location.


android.permission.INTERNET


Allows applications to open network sockets.


android.permission.ACCESS_WIFI_STATE


Allows applications to access information about Wi-Fi networks.


android.permission.READ_LOGS


Allows an application to read the low-level system log files. Log entries can contain the user's private information, which is why this permission is 'dangerous'.


android.permission.READ_PHONE_STATE


Allows read only access to phone state.


android.permission.WAKE_LOCK


Allows using PowerManager WakeLocks to keep processor from sleeping or screen from dimming.


android.permission.GET_TASKS


Allows an application to get information about the currently or recently running tasks: a thumbnail representation of the tasks, what activities are running in it, etc.


android.permission.WRITE_EXTERNAL_STORAGE


Allows an application to write to external storage.


android.permission.SYSTEM_ALERT_WINDOW


Allows an application to open windows using the type TYPE_SYSTEM_ALERT, shown on top of all other applications. Very few applications should use this permission; these windows are intended for system-level interaction with the user.


Description:
Camera360:Art in Your Hand.

No limit, no ads, all free. Camera360 for Android V2.7 is updated to all functions free version.


The most famous and perfect camera app helps your photo more amazing, funny and interesting.


* Effect like LOMO, Retro Effect, Dreamlike Effect, Art of Black and White, Back to 1839 and Night Enhancement will make your photo more beautiful.

* The amazing HDR effect is even better than iPhone HDR.

* Unique Funny Mode: Effects like Surrealistic B&W; Paining, Vertical/Horizontal Left Symmetry, Vertical/ Horizontal Right Symmetry, Ghost are available.

* Unique Scenery Mode: It takes the interesting composite photos, you can choose whether be in a movie poster, an art painting, a outdoor advertisement, or among the various types of greeting cards.

* Unique Tilt-shift and Color-shift Mode allows you to see the world from another angle.

* Share your photo to Sina Microblog, Facebook or Twitter


***************************

If you like our app please rate us five stars. Also your feedback is very important, please feel free to contact us atsupport@pinguo.usTwitter:@Camera360

Facebook:@PinGuo

***************************


Dear Customers,

Some cunstomers ask us why did we need the SMS permission? First, we want to say that we will not use customer's any privacy.The SMS permission is the "written permission" so we can not get your contacts.In order to send the media message so we need the "written permission".Please trust us we will never do that. Thank you! -
50

users LIKE this Android application
2

users DON'T LIKE this Android application
Camera360 Ultimate
52
Users comments about Camera360 Ultimate
Comment +
Warning:
To access you need to login. Please fill in the fields
here
.
mole.catherine
09:39:56 13/05/13

Love this app. It works very well in le phone.. :))))
edq231.fathali
16:31:20 19/04/13

I just wanna say that its the BEST

excellant app

try it and see for yourself
deffo worth a download